With RESIN' ARCHITECTE, the customer is at the heart of the creation.
Its unique appearance, its absolute comfort, its vision of elegance, this is what presides over the design, then the realization of our floor covering, infinitely customizable. Our team listens to your desires, your habits and your tastes, and will take the time to get to know you and to share its know-how with you in order to create a unique floor covering. Shape, colour of aggregates, finishes, patterns, customization, all options are explored to define "the" project that suits you.
The implementation phase, carried out by our installers, consists of five stages, detailed below: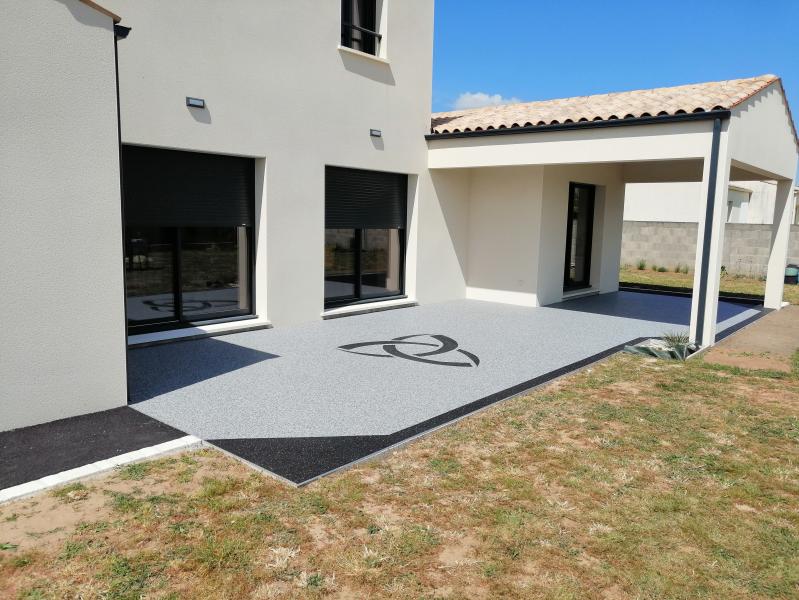 1/ Sanding the support
Essential phase, the mechanical preparation of a substrate consists of obtaining an optimum surface so that the substrate is suitable for receiving a coating system. The use of a sanding machine, equipped with diamond segments, will allow for the removal of laitance from the concrete. The work is completed by carefully vacuuming the substrate.
2/ Installation of aluminium profiles
Precision and finesse are the key words when cutting aluminium profiles. This process makes it possible to create the most complex shapes, imagination being the only limit. The cuts and openings are made manually, without deformation or burrs.
3/ Laying the primer resin or vapour barrier
Crucial stage in the project, the installation of the "vapour barrier" resin will give your flooring an incomparable longevity. This technology, derived from industrial floor covering installation techniques, will create a barrier preventing any capillary rise from the substrate.
Installed at a rate of 600 grams per square metre, with the possibility of application on a damp, non-running surface, the development of RESIN' ARCHITECTE vapour barrier resin is the demonstration of unique know-how in the field of resin formulation.
4/ Laying the covering
Calling on the incomparable savoir-faire of the master craftsmen, this stage enables them to become truly one with the material.
Thanks to their expertise and their love for the material, they give life to your outdoor and indoor spaces through the prism of the original marriage of aggregates and resin.
5/ The finishing coat
Then comes the final touch: the finishing resin, anti-slip or not, specially developed for resin bound gravel floor, a unique know-how of RESIN' ARCHITECTE.