Why choose a resin terrace for your exterior?
Your terrace is an additional living space, so it is an outdoor area that should not be neglected. Opting for marble carpeting will give you the comfort you need to enjoy moments of relaxation and sharing, with family or friends.
Our resin bound gravel floors, or marble carpets, made from castor oil resins and marble or quartz aggregates will give your terrace a modern design.
TERRACE RESIN BOUND GRAVEL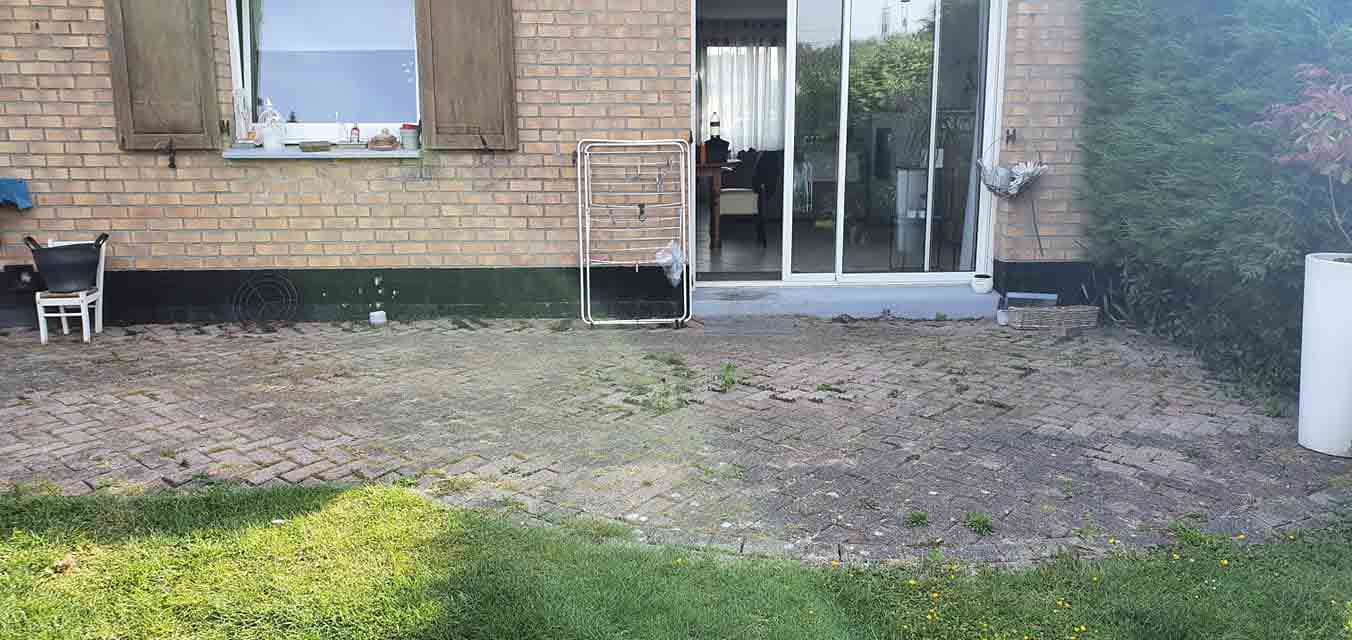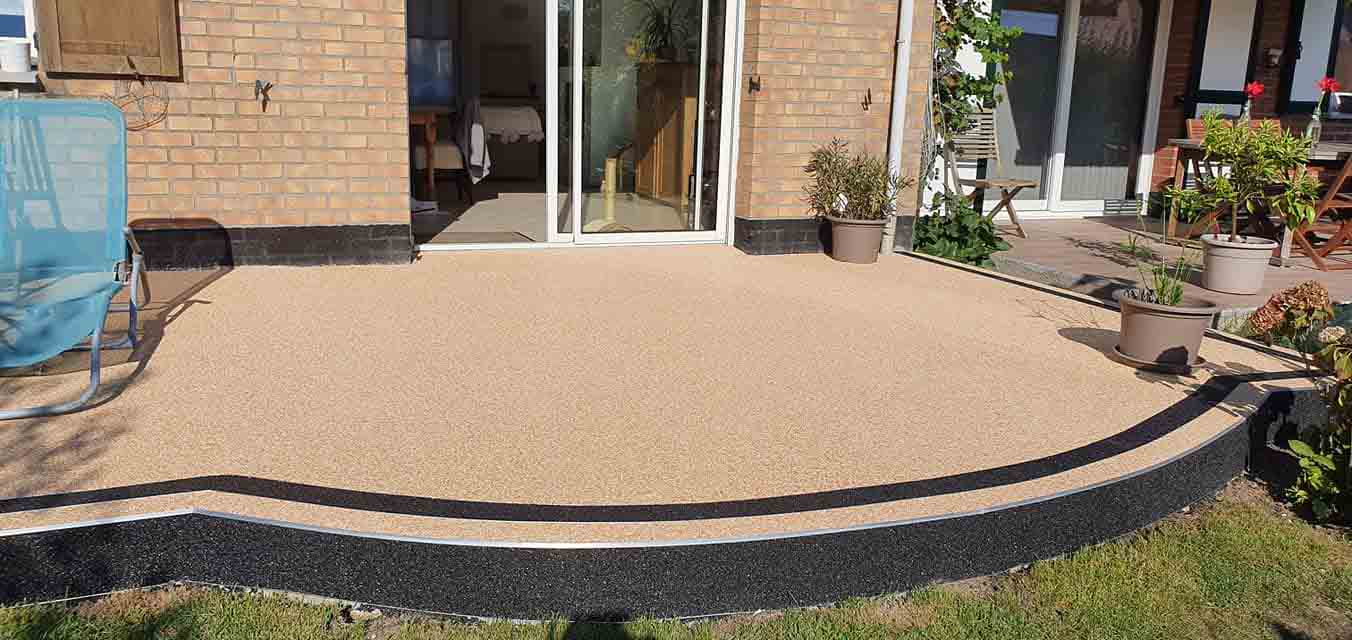 Technical characteristics
Outdoor resin bound gravel is a permeable and draining covering made of resin and marble granulates ideally suited for an outdoor space like your terrace. Our marble granulate terrace limits stagnant water, is very easy to maintain and offers you an outdoor floor with unique character. It will give your decking, floors and surfaces a long life and great aspect. This coating can be completed with a non-slip finish with the addition of coloured silica (translucent glass beads).
Our resin solution is ideal for your exterior: 
• Comfortable: whether barefoot or to the touch, our different types of resin flooring are very pleasant. Our solution is made of rolled marble aggregates of different granulometry agglomerated and protected by a resin, which offers a unique comfort while keeping the appearance of minerals.
• Anti-slip: Our exterior flooring is anti-slip thanks to our finish adapted to your needs so that you can enjoy your resin terrace.
• Easy to maintain: At the beginning of each spring, you can hose off our mineral decking with ease to enjoy it for the rest of the year.
• Longevity: Thanks to our high performance resin maintenance, your stone terrace carpet will keep a bright appearance over time.
How does a resin bound gravel floor withstand frost?
Thanks to its open nature, resin bound gravel is an excellent solution for outdoor flooring: outdoor pathway flooring, marble terrace carpeting, etc. Its waterproofness enables it to resist bad weather (rain, frost…), unlike tiles which can quickly show their limits.
When we fill a bottle with water, close the cap and put it in the freezer, the water in the bottle will swell and cause the bottle to crack. The same happens when the joint of your tiled terrace is cracked: it breaks.
Water seeps under the tile, swells when it freezes, causing the tile to rise. A resin bound gravel floor, on the other hand, has a different waterproofing effect. Being made of thousands of marble grains glued together with resin and thus forming an open structure, as soon as it freezes, water swells between the interstices of the product (which is equivalent to the phase when we open the cap of the water bottle in the freezer). Your outdoor resin bound gravel will therefore not be damaged by thaw cycles.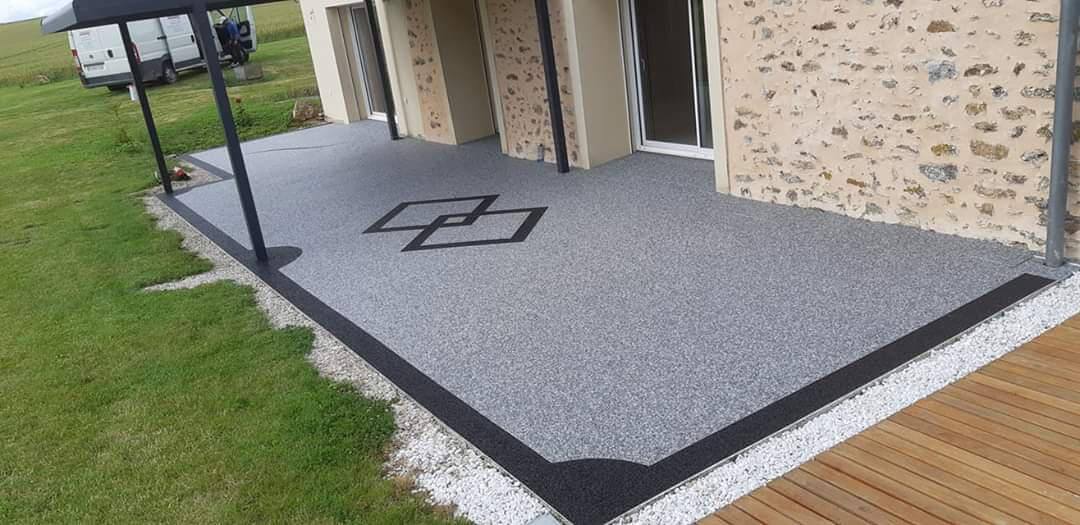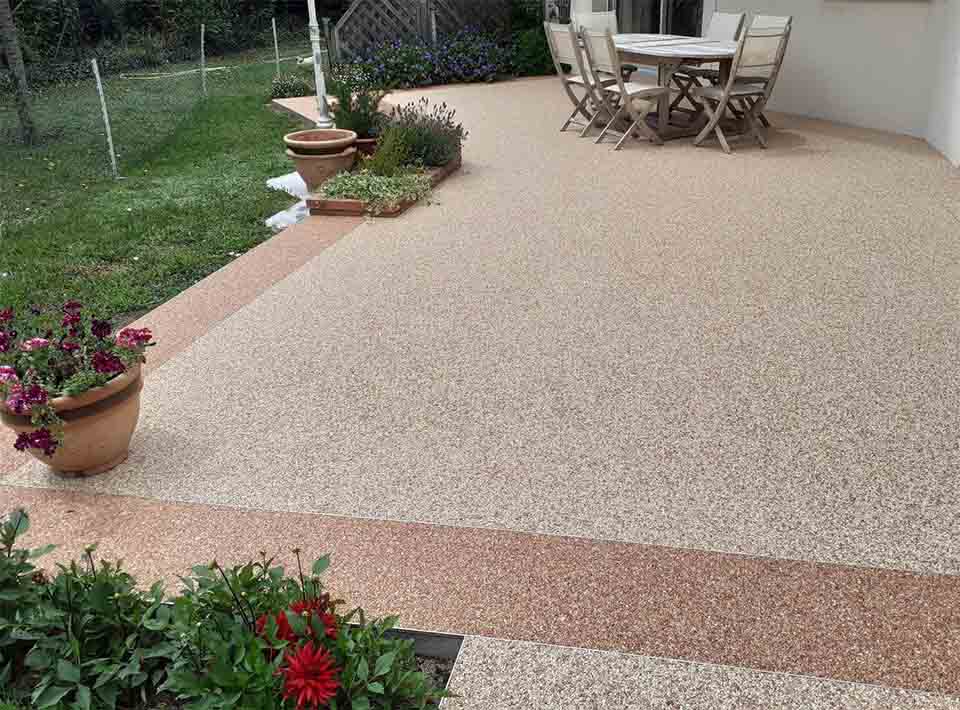 A modern and customizable design
There are many ways to personalize your terrace with resin bound gravel floor:
• By creating patterns, logos or space boundaries,
• By mixing the marble granules together,
• By adapting the granulometry of the stones.
We know that our exterior flooring is the perfect way to give your floors the modern look they need. You can personalize it with patterns and geometric shapes.
The marble carpet will meet your expectations and desires while respecting the decoration of your home and the outdoor environment. Marble aggregate and coloured quartz are noble products that offer many advantages. They are particularly resistant and very aesthetic. We provide you with a kit, composed of a colour chart of twelve marble colours (white, red, sand…) and around a hundred quartz colours to sublimate the covering of your resin terrace with this mineral and authentic aspect. You can also choose a resin bound gravel covering for swimming pools to dress up your exterior.
Is the support important when laying resin bound gravel?
The type of support is crucial for the successful application of your resin bound gravel for the terrace. From our network of approved applicators trained in France by the Resin' Architecte training academy, you can entrust your project to an expert professional in the field. Stone terrace carpeting is only applied to a stable support. A concrete slab is preferable, but it is also possible to apply the covering to an old stable tile or screed.
It is sometimes possible to apply our marble resin to a wooden surface indoors. Indeed, the composition of the resin is sufficiently flexible to be able to support a slight bending of the support. A skilled applicator will decide whether or not it is possible to apply it to your surface during the technical visit to the site and the drawing up of a free estimate.
Why is the preparation of the support important when installing resin bound gravel?
On some concretes, during the drying process appears a thin cement layer that does not adhere well to the concrete. As the resin bound gravel is a draining floor covering, the water that will seep into the covering and flow with the slope of the support will also seep into the cement if it is not removed.
In the event of frost, the thin cement layer may become detached from the support and thus cause the resin bound gravel to peel off. It is therefore necessary to sand mechanically with a sander equipped with a hooverto remove the laitance from the concrete and thus ensure the durability of your resin bound gravel terrace.
It is sometimes necessary to repair a water basin with epoxy resin and quartz silica. This will have a negative effect on the maintenance of your floor covering, as moss can settle more easily when there is a water basin.
Furthermore, as the resin bound gravel is draining, it is impossible to fill a water basin with the product.
It might also be necessary to apply an epoxy resin, known as a vapour barrier resin, at a rate of 600g/m² to prevent capillary rise and thus avoid the aesthetic deterioration of your resin bound gravel.
Epoxy resin and quartz silica can be mixed for local slope or support repairs. This resin solution is much more resistant than exterior floor levelling.
How long does resin bound gravel last?
As resin bound gravel is made of natural marble granules and non-yellowing aliphatic polyurethane resin(unlike epoxy resin), it has an exceptional resistance to time.
Natural marble stone is an authentic product. It will not change colour, as can be seen on other products such as outdoor asphalt or wood composite decking, for example.
However, the shine of your resin bound gravel will fade over time with the UV rays of the sun and moon. It will be necessary to apply amaintenance resin that will restore the shine to your flooring, in the same spirit as a parquet vitrification. A regular maintenance will make the product last for more than 10 years. The resin bound gravel terrace is ideal because it does not change colour thanks to the naturalness of the aggregate. It will simply mattify over time.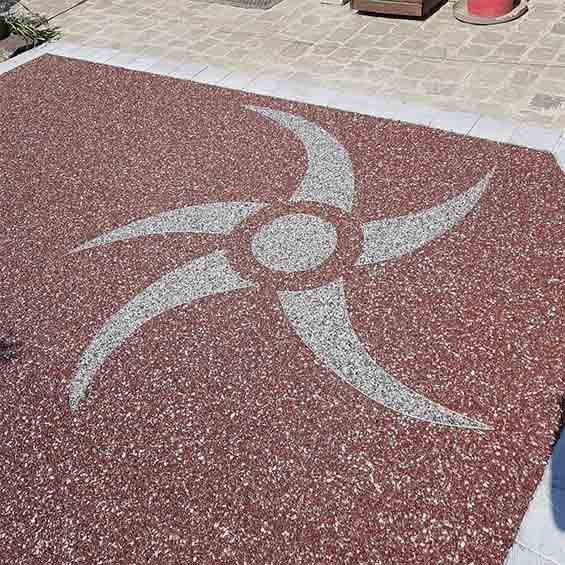 Is it possible to lay marble carpet indoors?
The resin bound gravel is the perfect outdoor flooring thanks to its draining nature. It can also be installed as an indoor flooring instead of tiles or parquet. All that needs to be done is to add a single-component resin, known as a pore filler, to the resin bound gravel over the entire floor surface.
This acrylic resin will fill in every gap to ensure easy maintenance of your flooring. As your decking is seamless and jointless, it is easy to maintain, both indoors and outdoors.
Do you have a resin terrace project? Contact us for the application and renovation of stone terrace carpeting! Ask for an appointment with one of our approved applicators near you and get a quotation for your project.