What is marble aggregate resin bound gravel floor?
Resin bound gravel, also known as marble carpet or stone matting, is a material made from a combination of smooth rolled marble aggregates and castor oil-based resin. The aggregate consists of crushed and sieved pieces of stone (marble, quartz, etc.) agglomerated and protected with a high-performance resin that serves as a binder. This resin is essential for the coating to be solid and resistant to scratches, bad weather…
We offer you a quality resin bound gravel for your floor coverings. You will obtain a unique natural and aesthetic result. Whether you are an individual or a professional, the material is equally suitable for a house, a flat, a reception area or a business premises. The advantages of marble carpeting are numerous. Decorate and give dynamism to your outdoor and indoor floors with our resin bound gravel floors.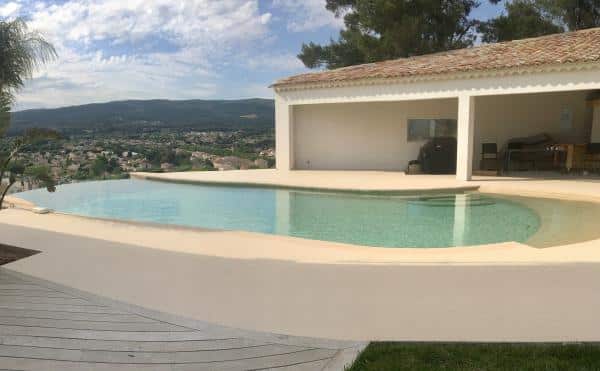 Why choosing resin bound gravel?
As a modern and durable alternative to traditional floor coverings, resin bound gravel floor offers many advantages.
On the floor or on the wall, it is very easy to maintain due to its resin base. This product, resistant and durable, is ideal for your development and renovation projects. These advantages make it the material of choice for your terraces, walkways, swimming pool decks, stairs, kitchens, bathrooms, etc.
Resin bound gravel is a good choice for many reasons :
• Wide choice of colours
You can adapt the colour and appearance of your floor to suit your wishes. The marble used for the aggregate makes the flooring decorative and durable.
•  Resistant
The polyurethane resin used to gather and protect the mineral aggregate reinforces the flooring. The draining power of the resin bound gravel enables liquids to circulate in the thickness of the material and prevents them from stagnating and forming puddles, making it a non-slippery surface. The material is particularly resistant to impact, weather, frost and UV light in the case of outdoor covering, which significantly increases its lifespan compared to other more "traditional" coverings.
• Ease of maintenance
Stone resin is particularly easy to maintain because of the resin coating. Any surface stains can be removed by cleaning with water (with a hose or a brush). The non-yellowing composition of the resin ensures that the original colour of the aggregate stays the same, even after several years.
Where to lay resin bound gravel?
Resin bound gravel, or marble carpet, can be laid on different types of surfaces.
If you are undertaking a renovation project, you will probably apply your indoor or outdoor resin bound gravel to an existing support. This means that you can lay or have your carpet laid on top of tiles or natural stone. This is an important advantage that can save you valuable time and money by avoiding the need to remove the tiles. However, the old tiles or your concrete slab must be in good enough condition to receive a covering.
During a construction site, the choice of support will depend on the use of the space and its technical constraints. The intervention of a professional may be particularly necessary at this stage to make the right choices.
This material is particularly suitable for outdoor areas. Stone terrace carpeting is suitable for a private terrace or balcony as well as in a professional environment. You can also opt for resin bound gravel to cover your swimming pool deck, but also your driveway, your outside stairs…
It is also very suitable for interior spaces: kitchen, bathroom… Interior resin bound gravel is a modern, refinedand technical type of covering that meets both the needs of resistance and comfort (warm and non-abrasive floor), but also the aesthetic requirements to decorate an important room of your interior.
Professionals such as car dealerships, hotels, restaurants or campsites also particularly appreciate this floor covering for its specific features and its ability to be personalised.

Our different types of resin bound gravel floors
We offer resin bound gravel floors with marble aggregates in different colours, neutral or more vivid, plain or mixed, with the possibility to create a pattern. The mineral aggregate has the advantage of being able to play with shades of marble and quartz. You can thus match your flooring to your interior or exterior decoration. You can also find a suitable floor covering in a professional environment. It is recommended to choose a dark coloured floor covering for an outdoor pathway to hide tyre tracks, but for a terrace or a bathroom floor you can perfectly use colour.
Our colors

Customizable
with a wide range of colours and patterns, marble carpet is the perfect flooring for creating spaces that reflect your image. We offer you solutions for the ideal design of your living space and business premises.
Whether used as indoor or outdoor flooring, marble carpeting adds a touch of originality to your decor.
Installing a resin bound gravel flooring
You can try to lay resin bound gravel on your own, but hiring a professional will ensure the quality of the final result. A uniform result should be achieved for the aesthetic aspect. An expert in the field will be able to assist you with this project.
Our resin applicators are involved in the installation of resin bound gravel flooring from A to Z. From the sanding of the support to the application of the finishing coat, including the cutting of shapes, the laying of the resin and the installation of the covering, their brings your interior and exterior spaces to life.
You are based in the north of France? Call on our flooring specialist in Lille who will be able to provide you with advice and expertise for your floor covering! You don't live in Lille and its region? Our teams are also present on the whole French territory. You will be able to find our flooring specialists in Bordeaux but also in the South with our resin bound gravel experts in Toulouse and in Marseille.