Indoors and outdoors, EPDM cushioned floors provide a soft and colourful comfort. EPDM resilient flooring is an aesthetic alternative to more traditional floors such as PVC, linoleum, vinyl, carpet, etc. In addition to being insulating, EPDM flooring is easy to maintain and accessible. Flexible flooring is a floor covering that can be made in a variety of colours: it enables the creation of various shapes and patterns and offers optimal landscape integration of playgrounds, swimming pool decks or any other development.
SOFT FLOORING: EPDM CUSHIONING FLOOR
EPDM soft floor covering for playgrounds
In order to ensure maximum protection and to prevent children from falling, there are many different types of flooring for playground surfaces: grass, artificial grass, wood chips, sand, gravel, polypropylene tiles, rubber cushioning tiles, EPDM cushioning floors, etc.

Playground cushioning is a particularly advantageous floor covering for playgrounds, but also for nursery floors, etc. It is made of rubber granules and resin and has many advantages.
Why choose an EPDM cushioning floor?
As it is draining, flexible EPDM flooring is not affected by frost or high temperatures, making it ideal for an outdoor area. Not only are they a real aesthetic and fun solution, flexible floors are also non-slip and totally permeable to water and air, making them an undeniable safety feature.
It is perfectly suited for intensive use and guarantees safety around children's play equipment such as swings, slides and other games.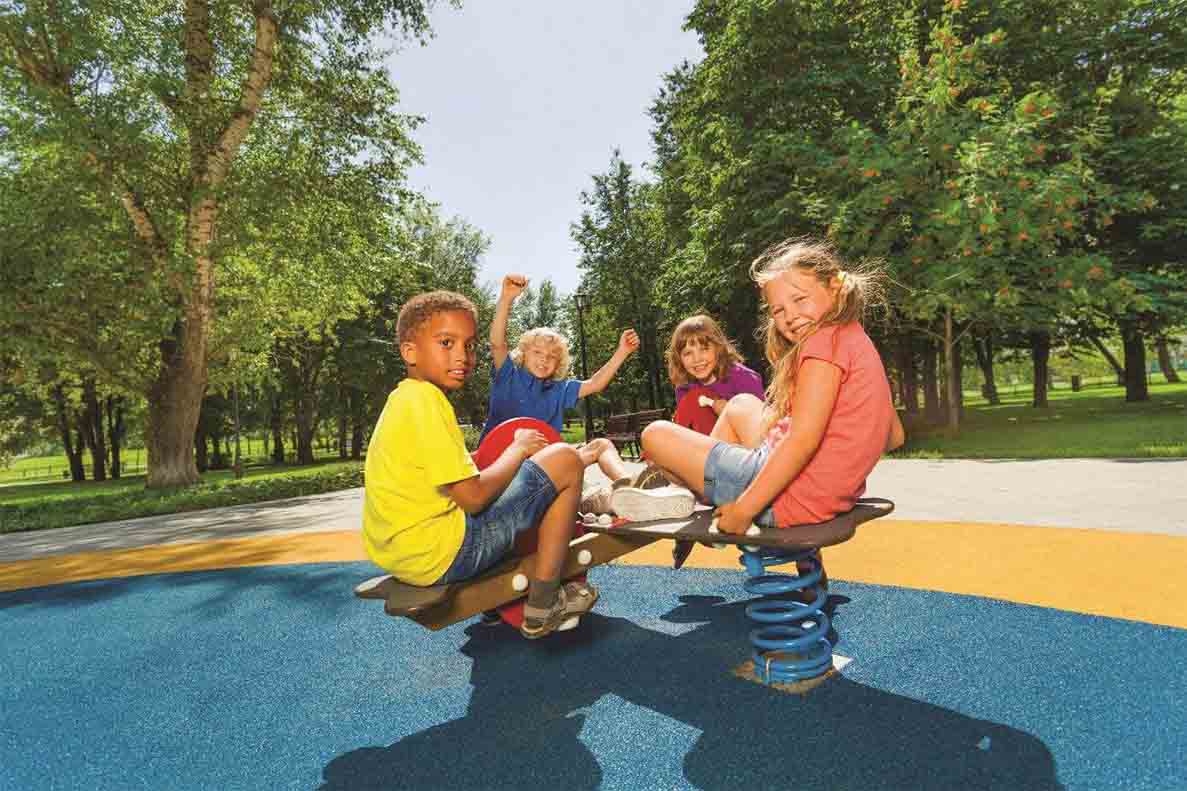 The flexible cast floor is designed and developed to be a high-quality floor product. The flexible playground floor, specially designed for outdoor use, is also highly resistant to weathering, multiple passes, children running around and wear and tear. It is also very resistant to temperature variations and is very easy to maintain as it can be cleaned with a water jet.
In addition to its safety and durability, the flexible playground floor is also very elegant. It is available in a variety of colours, with the possibility of patterns, which provide an undeniable decorative effect. It is a perfect combination of aesthetics and safety.
It can be used on any type of floor to create safe spaces for children and adults: at school, around the swimming pool, on the playground… The flexible floors in our range will meet your expectations to create safe and fun playgrounds. The playground floor is a fully adaptable covering in both shapes and colours, giving this covering a unique aesthetic appearance.
The quality charter for soft floors for playgrounds
Playground floors follow two norms:
the NF EN 1176 norm: It stipulates obligations in terms of protection of cables and the soft, non-slip properties of climbing ropes and nets in playgrounds.
the NF EN 1177 norm: It is used to measure the wet capacity of a safety floor. With the test defined in this standard, the critical fall height (CFH) of a safety floor is determined.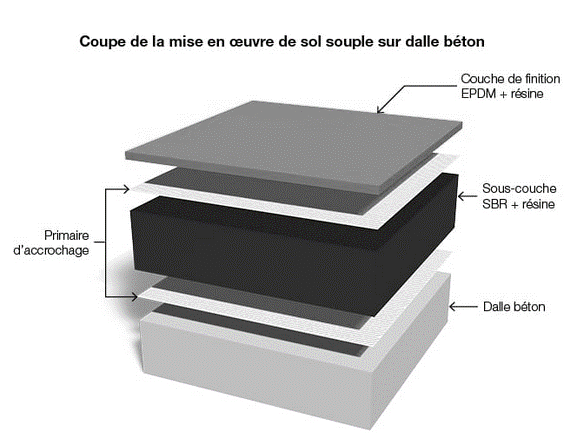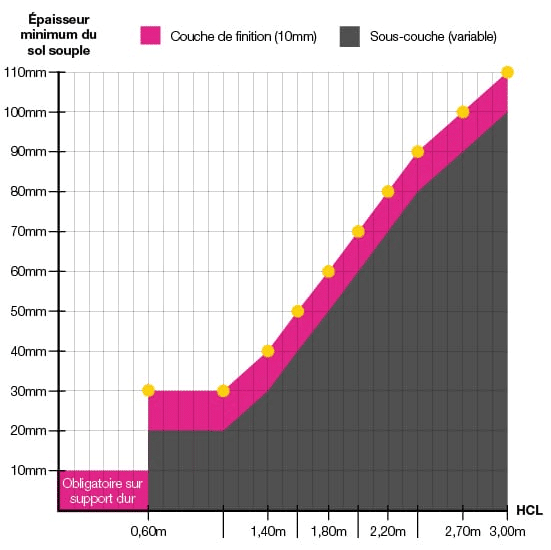 Our soft flooring for nurseries and playgrounds complies with our quality charter:
The resin dosage, which is 20% of the weight of the aggregate, is respected in order to create a sufficiently absorbent and durable floor.
Respect of the mixing time
The mixing of the aggregates and resin is calculated to obtain homogeneous mixes, which are essential for a quality implementation.
Respect for the application of an aliphatic resin
An aliphatic resin is essential to further preserve colours that are particularly sensitive to UV radiation.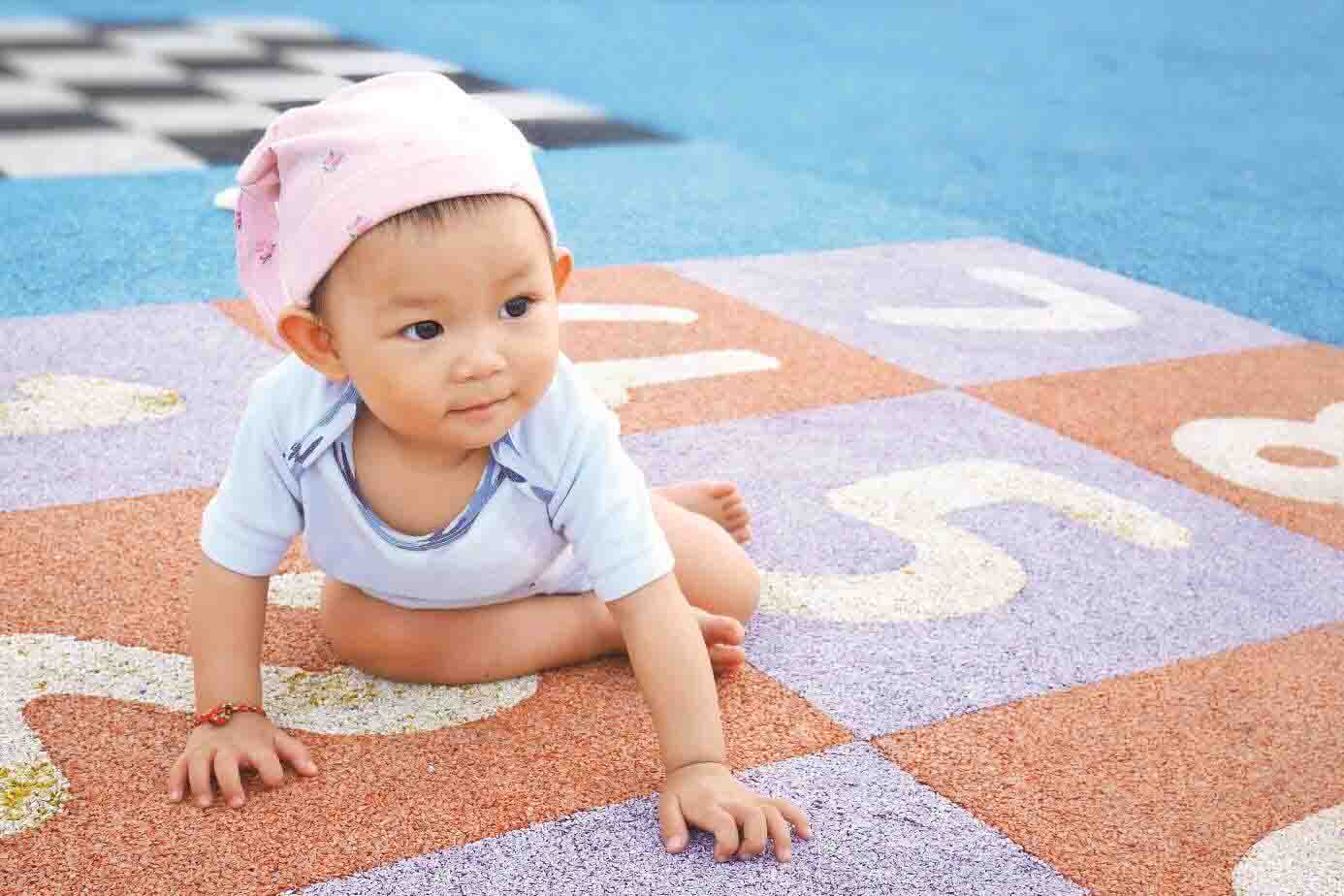 Do you want to cover the floor of a children's playground, a swimming pool deck or a nursery with a safe covering that will make the space more attractive? Contact our team of professionals for more information on the product and installation as well as a free quote. Our resin bound gravel applicators can also install resilient flooring for all surfaces.
We can provide you with a colour chart of soft floor coverings for playgrounds: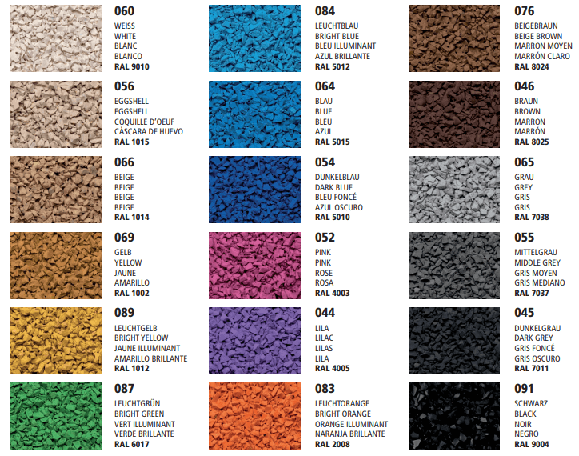 Contact us at (+33)3.20.59.00.46, or via our contact form.