Resin bound gravel, also known as marble carpet, is a floor covering that is suitable for both indoor and outdoor use, for both individual and professional customers. Restaurant owners, hoteliers, campsite managers, car dealership owners, swimming pool owners… you can opt for a professional marble resin floor covering to dress up your premises. We assist professionals in carrying out a project from A to Z in order to dress up an interior or exterior space.
PROFESSIONAL FLOOR COATING
Resin bound gravel for showrooms and dealerships
Whether you are a swimming pool owner or a car dealership manager, our resin bound gravel floor for interiors can enhance your showroom and/or your offices.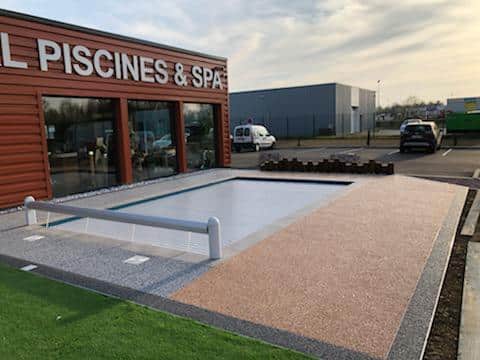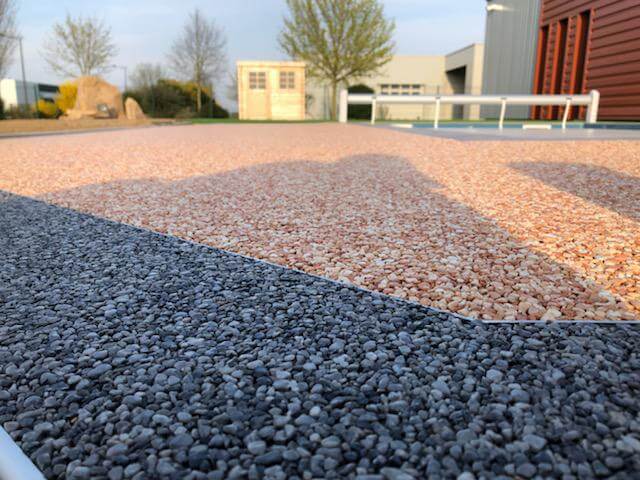 The enhancement of a sales area such as a showroom must meet your technical and aesthetic expectations. The use of resin-based floor coverings provides design and mechanical resistance and allows for your project to stand out.
By combining different stone colours, it is very easy to create an atmosphere, to delimit a space, to orientate the customer and to create more intimate places (sales office, reception area, etc.).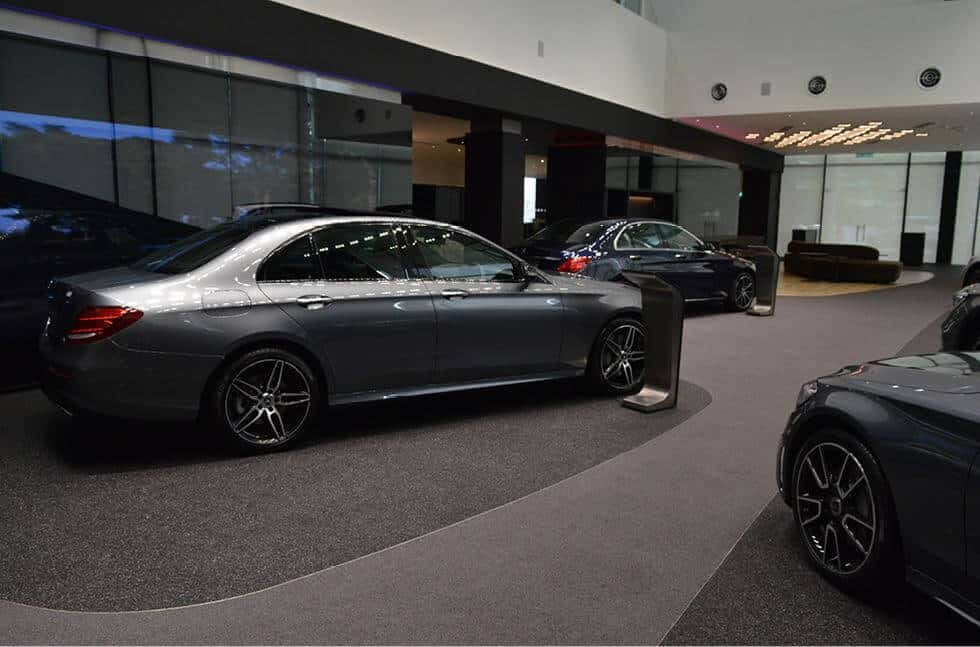 Resin bound gravel for campsites
Resin bound gravel is ideal for facilities that receive the public, such as a campsite. Our flooring solution for is ideal for washrooms, terraces, stairs, pool decks and playgrounds. Your reception area, washrooms and showers are as well among the strict criteria that are evaluated by users, as these areas are used every day and must be practical and clean.
Our pool deck solutions are twofold with an exterior marble aggregate coating and a soft floor coating. Marble resin, also known as marble carpet, is a unique and ideal floor covering for your pool area. However, for your camping pool deck as well as for playgrounds, we recommend our, because in addition to being draining, it cushions the falls of your users and limits accidents EPDM flexible floor covering.
Why choose marble carpet in professional establishments ?

There are different types of professional floor coverings: vinyl, PVC, parquet, concrete slab, tiles, laminate, linoleum (or lino)… To make your choice, you must take into account various criteria:
Resistance to weight, friction, moisture
Durability
Space to be covered (inside, outside, room…)
Ease of maintenance
Ease of installation
Aesthetics
Comfort
Original floor
Etc.
Our marble carpet is ideal for professional flooring. In addition to its technical characteristics, which fully meet the expectations of frequented spaces, this professional floor covering is modern, elegant and enables the space or the products that are sold to be highlighted.
Resin bound gravel is the perfect solution thanks to its innovative properties to strongly limit aquaplaning in busy traffic areas. Its anti-slip finish reduces the risk of slipping. It is easy to clean with a water jet, and even with a Kärcher up to 30 bars, to remove dirt, sand and all residues.
From a hygienic point of view, the resin and the marble aggregate are draining, what prevents the accumulation of water and the related risks such as the appearance of fungi and others. This type of flooring is therefore very practical on a campsite or for lining a swimming pool with a resin bound gravel in a hotel. Hoteliers can use marble carpet both for their exteriors and interiors for example in the lobby. You can also choose resin bound gravel for the terrace of a restaurant. These characteristics make it a particularly practical covering for outdoor areas.
Its durability and high resistance also make it a very popular covering for professionals. The resin bound gravel dresses up your outdoor and indoor spaces. With resin bound gravel, you have a wide range of colours and shapes to suit all your rooms, the possibility of unifying the floor while guaranteeing perfect flatness and the possibility of a customized creation.
Laying a resin marble floor
Call on a professional to install your floor covering. Our partner resin applicators will assist you from A to Z, from advice to the installation of the primer, the coating and the top coat, including the preparation of the support and the work related to the installation, such as any necessary cuts.
We offer a wide range of colours of marble aggregates:

But also quartz aggregates to personalize your floors to your image: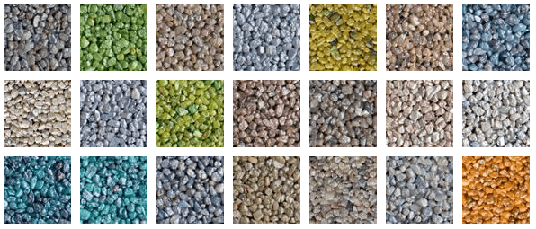 You have a construction or renovation project and are looking for a professional floor covering? Discover our services and ask for a free quotation.