Indoor resin bound gravel floor is a floor covering that has many advantages. It can be used to cover different surfaces: kitchen, bathroom, bedroom… Personalize your decoration with a modern and natural floor by opting for a marble carpet, or resin bound gravel. The latter is composed of marble granules or quartz aggregates mixed with a resin. You can choose from a wide range of colours and play with colours and patterns.
INDOOR RESIN BOUND GRAVEL
How to choose your interior floor coating ?
Different types of flooring such as parquet, linoleum and tiles can be installed in the rooms of the house. However, some are more suitable than others. The resin bound gravel for interiors is an original alternativethat is perfectly suited for the living areas of your home.
In order to make your choice, you must, in addition to the aesthetic aspect, opt for a floor covering that meets certain criteria:
Traffic resistance: In the home, certain rooms such as corridors, living rooms or the kitchen are subject to heavy traffic. Therefore, your floor covering must be easy to maintain and, above all, resistant to friction and abrasion.
Stain resistance: Depending on the room, the risk of stains on the floor is more or less high. The kitchen is obviously a sensitive room, as is the hallway.
Moisture resistance: Moisture is particularly present in all wet rooms such as bathrooms, toilets and kitchens.
The floor covering you choose must be suitable and adapted to the use of the room.
Why choose resin bound gravel for your interior?
Our resin bound gravel solution, or marble carpet, is ideal for renovating your living areas. It can be laid directly on top of existing tiles, wooden floors or concrete screeds that have been tested by our approved resin applicator, even if you have underfloor heating. The preparation of the support is an essential step to ensure the durability of the flooring. Resin bound gravel for outdoor or indoor use is made up of marble or quartz aggregates and a resin to bind and protect them.
For aesthetic purposes
Marble resin is a seamless floor covering, which gives the room an authentic and modern look. The colour chart of our floor covering gives you the possibility to combine aesthetics and originality according to your wishes. You can even create your own patterns by playing with the colour and grain size of the natural stones.
Thanks to its smoothing action, the resin bound gravel also gives a more luminous appearance to the surface, limiting the diffusion of light on the surface's micro-reliefs.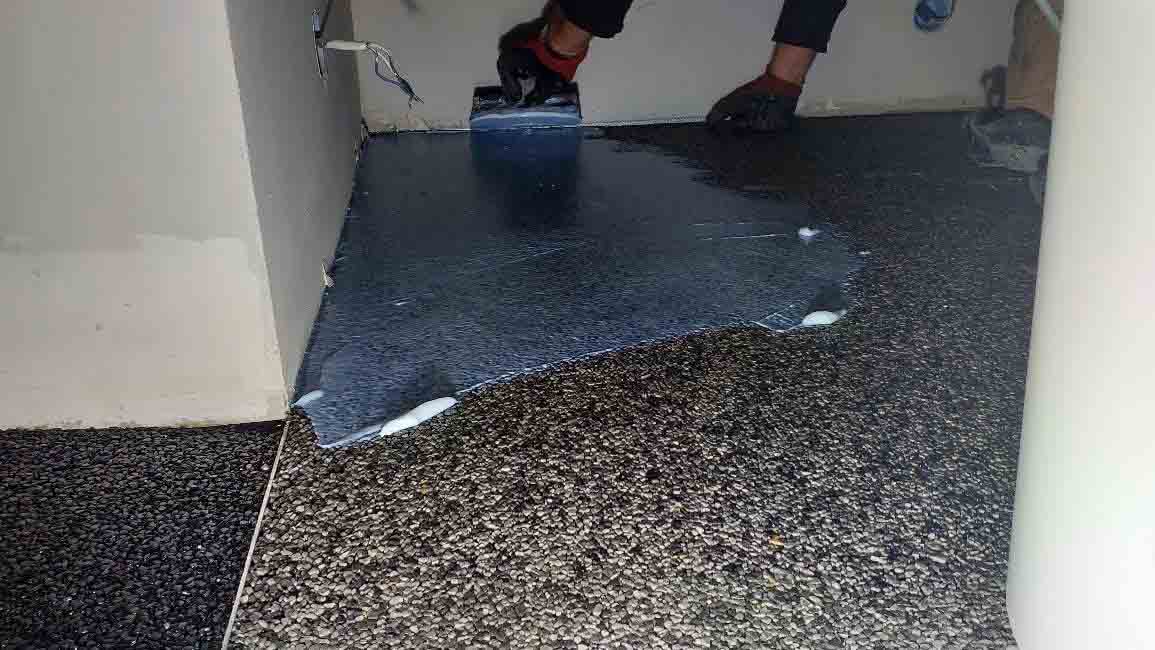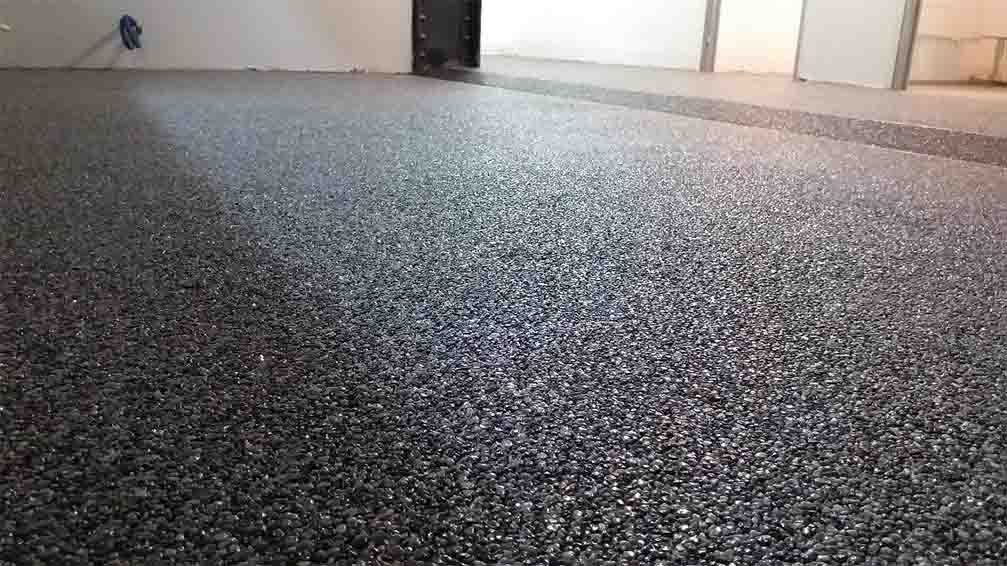 For technical characteristics
The maintenance of our marble carpet is very easy thanks to our specially formulated pore-filling resin finish for indoor flooring. This film-forming finish protects the marble granulate and makes it shinier and smoother, which makes it even easier to clean. From a hygienic point of view, the closed structure of resin bound gravel does not accumulate dust like carpeting or tile joints, which is why it is very popular in homes as well as for professional flooring in restaurants, dealerships, etc.
Resin bound gravel for interior floors is particularly appreciated for its wear resistance and durability. Compared to tiles, it offers better thermal insulation. It is also warmer and more pleasant to the touch. Call on one of our partner resin applicators for resin bound gravel installation work. They will assist you from start to finish: advice, preparation of the support, necessary cut-outs, application of a primer, the coating and the application of the top coat.