Outdoor path resin bound gravel
Our resin bound gravel path covering, also known as marble carpet, can be used to cover driveways and walkways. In order to make a driveway more attractive and viable, it is often best to have it landscaped.
The pathway that usually leads to the entrance of your home or the garage entrance is the first impression your guests will have of your home. It is a real added value to win points from the very first moment. Resin bound gravel floor will not only dress up your exteriors, but it will also provide you with everyday comfort every time you enter and leave your home. 
Thanks to our resin specifically formulated for outdoor walkways, our coating offers greater mechanical resistance than current polyurethane resins and provides stability over time. Combine aesthetics and resistance to enhance your driveway or footpath with our resin bound gravel floor adapted to your needs.
Available in a wide range of colours, the entrance to your home will easily adapt to the style of your façade.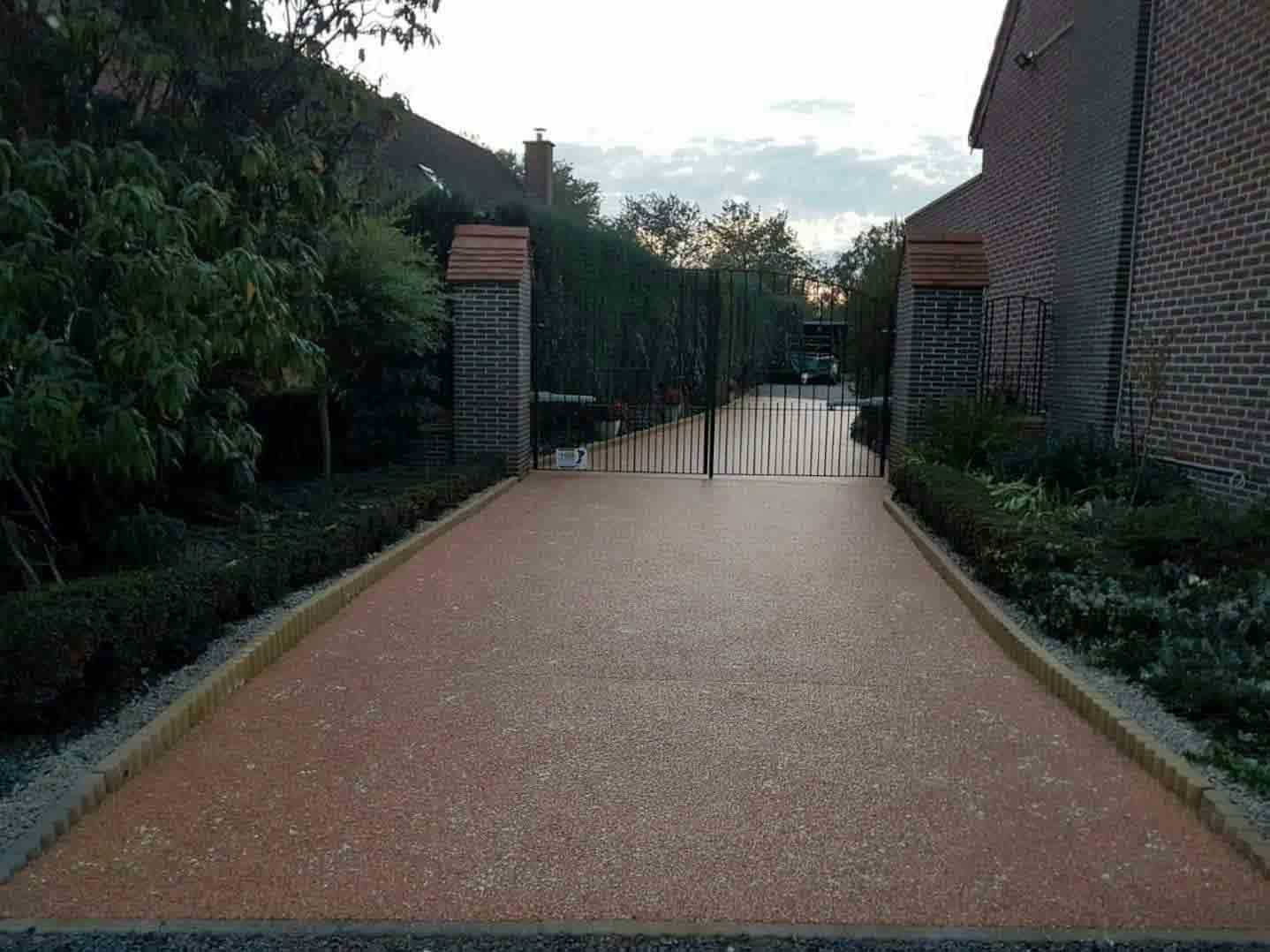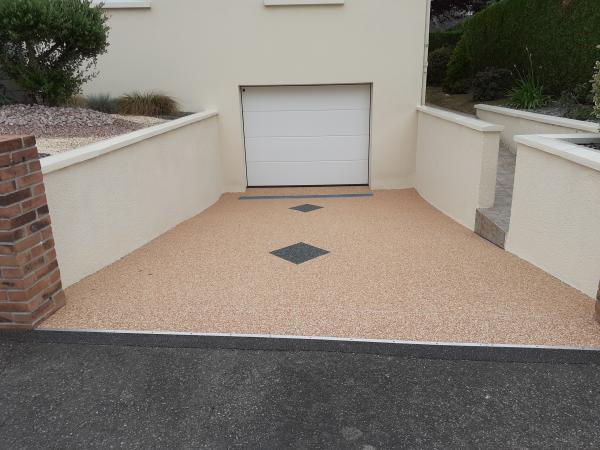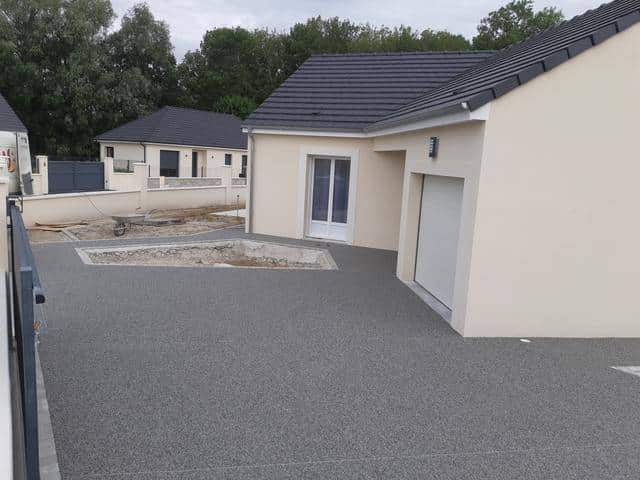 What coating to choose for your outdoor path?
Creating a robust and aesthetically pleasing driveway or walkway for your home is a priority. Many products such as macadam, also known as tarmac, gravelled slabs or cobblestones offer a simple and practical but not durable look. Printed concrete and asphalt are also often used for driveway surfacing. However, they are not scratch resistant or UV resistant. Gravel can be an economical solution, but is not very practical for everyday use.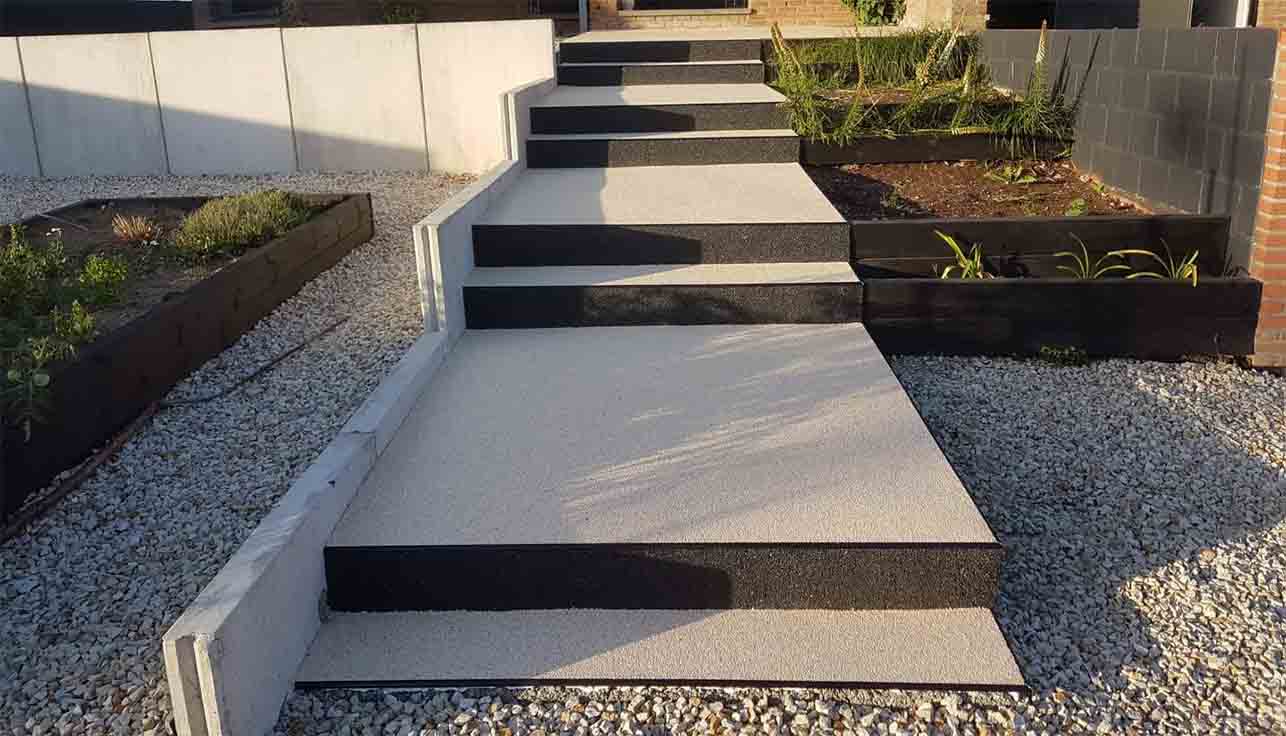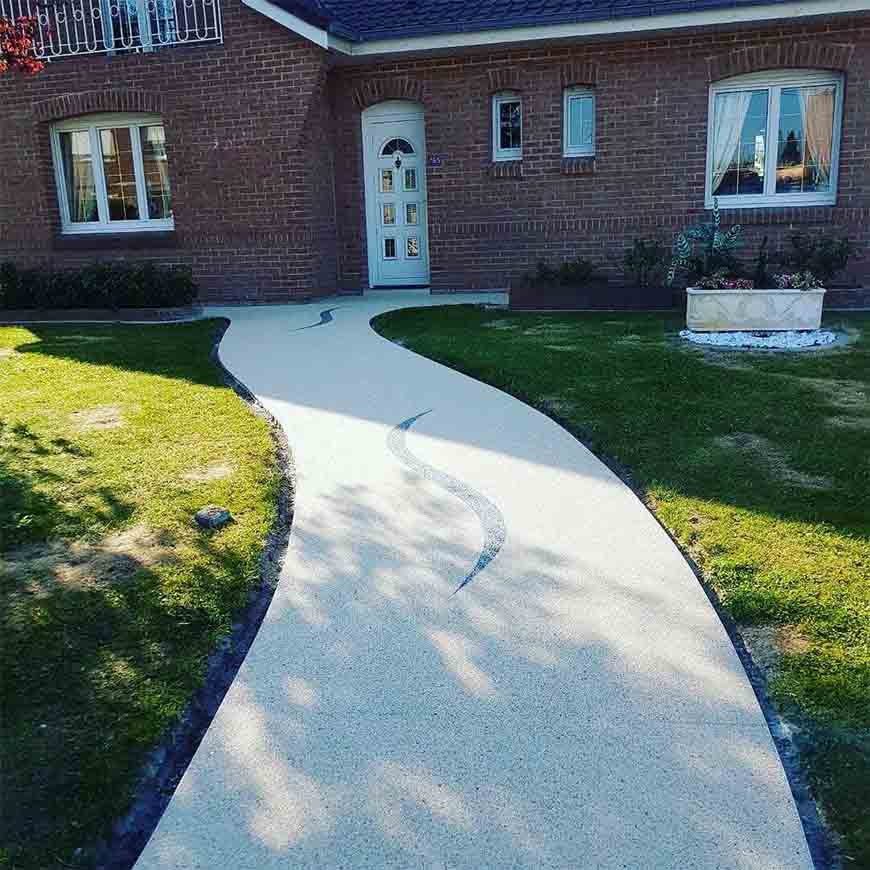 Choose a paving material that combines the technical characteristics needed to last over time and resist external aggression, and that will enhance your exterior.
Characteristics
For the front of your home, your choice should take into account aesthetics, but also safety and ease of maintenance.
Make sure your driveway or walkway resin bound gravel meets certain criteria:
Weight resistance: Driveway flooring must have optimum load resistance to ensure that your car and different types of vehicles can drive on it without the risk of deformation and deterioration under the weight of a heavy vehicle.
Weather resistance: The driveway or walkway must be highly resistant to the weather, including rain, hail, snow and repeated frost cycles.
Durability: The stability of the support is of paramount importance, as it contributes to safe traffic and travel in all weathers.
The design
The aesthetic appearance of your exterior flooring should enhance the entrance to your home. We offer you awide range of colours of marble granulate to cover your driveway or house. You can choose the colour of your choice and personalize your flooring with a pattern or set of colours.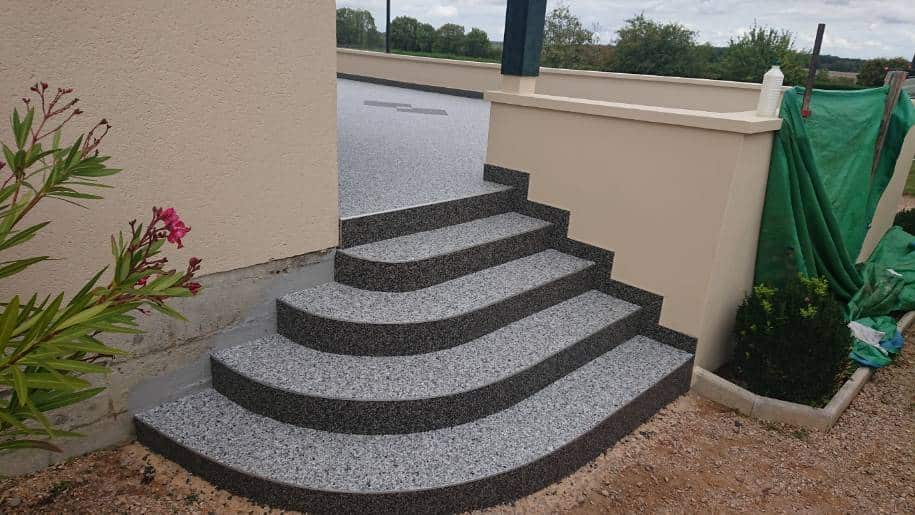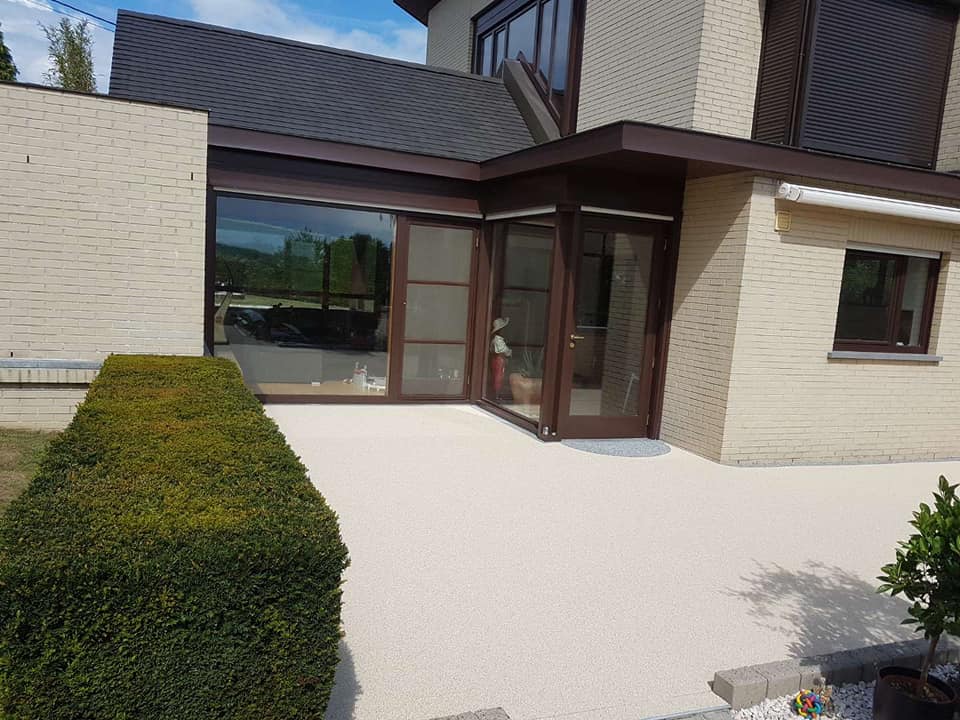 It is strongly recommended that you use dark marble or quartz for your driveway surface to hide any tyre marks. Charcoal grey is the most commonly used colour.
Why choose a resin bound gravel driveway covering?
Resin bound gravel is made of resin and marble or quartz aggregates. It is poured on a concrete slab and is known for its resistance to impact and tearing. 
Our resin marble flooring is both practical and safe with its draining and anti-slip properties. You will be able to renovate your entrance to your home, your stairs or even your driveway.
To lay marble carpet for a driveway or walkway, we use a polyaspartic resin. This is more efficient than polyurethane resin, which is preferred for a terrace resin bound gravel or a covering for swimming pool decks. The viscosity of the polyaspartic resin will give the resin bound gravel a high level of strength and resistance to tearing.
What is polyaspartic resin?
Polyaspartic resin is a binder with two components: a resin and a hardener. The mixing of the two causes the hardening reaction which makes the material very hard. Its elongation rate of over 300% makes it more flexible than polyurethane resin.
Polyaspartic resin has many advantages:
superior chemical, solvent and impact resistance
mechanical strength
100% UV stability
reliable performance over a wide range of temperatures and climatic conditions
It can be applied from 0°C and dries in 3 to 4 hours. Its transparent and glossy finish lasts over time thanks to its high tolerance to heat and cold. Polyaspartic resin is therefore an excellent choice for outdoor applications.
How to lay resin bound gravel for a driveway?
Compliance with the building code is mandatory for vehicle access on a driveway. If you are laying marble carpet on concrete slabs, you must check the slope of the ground, the joints and the water drains.
This part of the support preparation is essential for the longevity of the outdoor flooring. Once this stage has been completed, our partner resin applicator carries out:
The application of the primer for the adhesion of the aggregates,
The installation of the marble carpet with a trowel to smooth the surface,
The application of the finishing resin to protect the covering durably.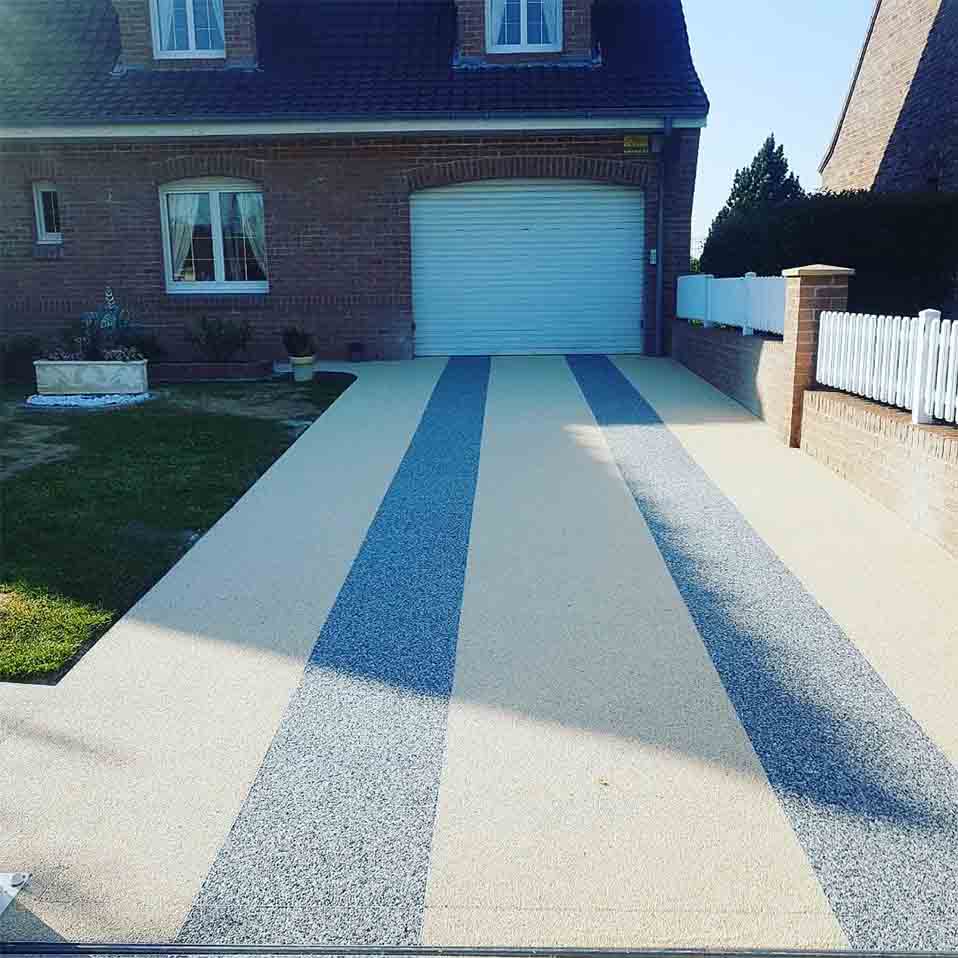 Do you have a project for a walkway or driveway in marble aggregate?
Rely on the professionalism and expertise of our teams to provide you with the best advice and carry out the work involved in laying the flooring.