OUTDOOR RESIN BOUND GRAVEL
Permeable resin bound gravel, or marble carpet, is an ideal quality material for outdoor flooring. The choice of materials for your outdoor areas is very important. In order to make your decision, you need to define your expectations in terms of aesthetics, resistance, maintenance, but also according to your budget.
Whether you are building or renovating a driveway, pool deck, outdoor staircase or walkway, it is an excellent choice.
This material easily adapts itself to the exterior and offers an original and high quality look.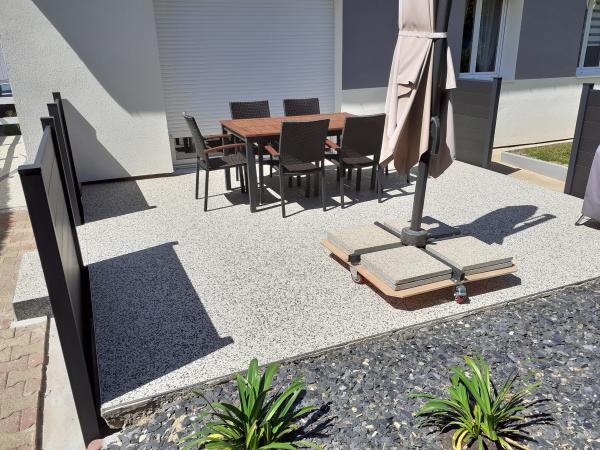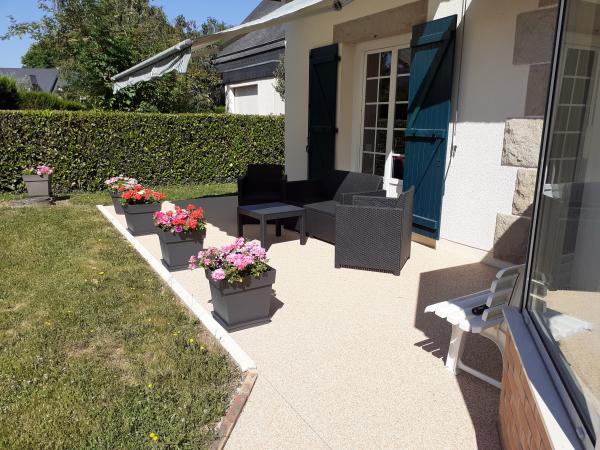 Why choose permeable resin bound gravel for an outdoor area?
Marble carpet is made of marble aggregates (crushed pieces of stone such as marble or quartz) and a high-performance resin. The combination of rolled marble aggregates and castor oil-based resins offers many advantages for outdoor flooring compared to other types of flooring such as wood composites or tiles. It is becoming increasingly popular with both private and professional users for a number of reasons:
• Aesthetics
You have a wide choice of colours and the possibility to create patterns. Thus, you can give your outdoor space the look you want: light or dark, coloured or neutral, solid colour or mixed, pattern or logo. The resin used in the composition of the permeable resin bound gravel as a binder to combine the aggregate is a non-yellowing resin. This means that the product does not fade or change over the years.
• Resistance
Outdoor permeable resin bound gravel have drainage (to avoid stagnant water), anti-slip, frost-resistant and long-lasting properties. This outdoor flooring is perfectly resistant to cracks, scratches and other impacts, to bad weather and high temperatures thanks to the polyurethane resin that protects the aggregate. Its ability to drain water and prevent slipping is perfect for outdoor use. You can drive or walk on it with shoes or barefoot without risk. The surface is very pleasant to the touch and comfortable.
• Maintenance
Permeable resin bound gravel is easy to maintain. Its composition provides protection against external influences. Liquids of any kind do not stagnate and are drained away. Surface stains that may remain on the carpet surface can be removed by cleaning with water. For more greasy and stubborn materials, you will need to clean your floor with a brush and soap. Depending on the stain, you can also use specific products.
For which outdoor areas should I choose permeable resin bound gravel?
For your outdoor spaces, it is essential to choose a resistant and permeable covering. Stone resin is a floor covering that can be used in many different types of spaces, from houses and flats to business premises and public buildings.
Stone resin for the terrace or balcony
In a house, the balcony or terrace is a very important space that needs to be fitted out as well as possible to ensure daily comfort. You will appreciate even more your moments of sharing and relaxation outside with an equipped terrace!
On top of being weather and UV resistant, terraces should match your interior design, facade and garden to ensure a great look. You will easily find a covering that you like and that fits your home thanks to the wide choice of permeable resin bound gravel colours for terraces. The possibility of creating a pattern also enables you to let your imagination run wild and personalize your exterior.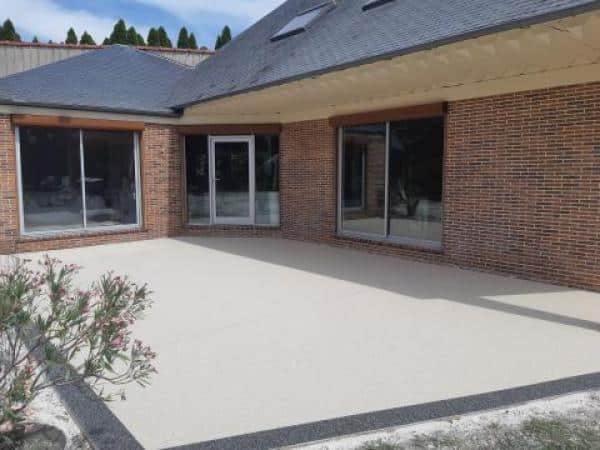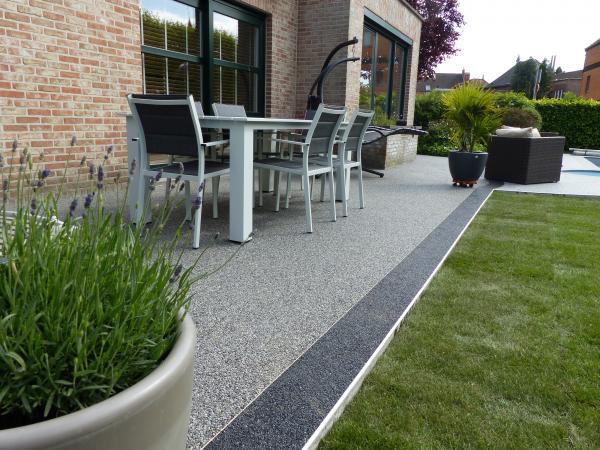 Stone resin for the pool deck
If you are looking for a covering for your outdoor pool area, permeable resin bound gravel is a great choice. The material is perfectly designed to drain water and prevent puddles from forming. This reduces the risk of slipping. The non-slip surface is especially suitable for pool decks.
The colour you choose for your flooring will enhance your pool and bring your outdoor space to life.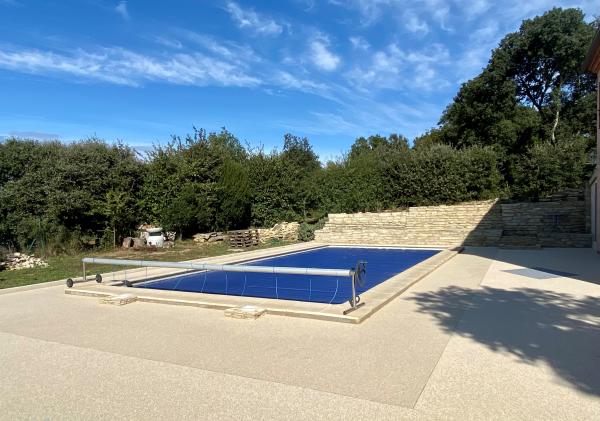 Outdoor permeable resin bound gravel walkway
You have the possibility to equip your outdoor spaces such as walkways or stairs with a permeable resin bound gravel flooring. For your driveway, you must choose a covering that is sufficiently resistant and that lasts over time to support the repeated passage of vehicles.
For this type of space, it is customary to choose a dark coloured surface, such as anthracite grey, to hide any tyre tracks.